Dry cleaning is a process that uses liquids other than water to clean clothing, bedding, upholstery, and other types of fabrics. Our modern dry cleaning machines are both self-enclosed and environmentally friendly. Through the use of safe cleaning agents and constant filtration, we ensure an environmentally safe solution that provides a superior clean while being gentle on your delicate garments.
Dry Cleaning is the best way to remove pesky stains with minimal agitation. Dry cleaning is also crucial for removing 'invisible stains' caused by clear liquids (eg. soft drinks or alcohol). If left untreated, these foreign contaminants will cause irreversible damage to the fibres of your clothes. Regular visits to your dry cleaners can remove spots and stains that would otherwise become permanent with age.
You can count on us to give the best possible care for each of your garments.
Delicates (blouses, dresses, scarves, etc.)
Evening gowns and dresses
Shirt Laundry and Pressing
Complimentary Minor Repairs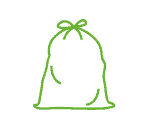 Staff will receive your order and do an initial inspection of each item for stains, special cleaning instructions, loose threads, missing buttons, etc. Your order will be entered into our electronic system and tagged with a barcode.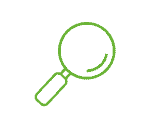 Items will be reviewed again for any missed stains or textile issues that may have been missed at drop off. An expert look will be taken at any existing fabric damage or potential cleaning issues.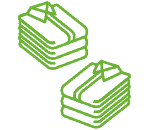 Items will then be divided based on specific cleaning instructions.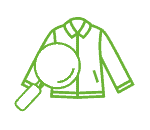 4. Post-cleaning Inspection
Items will be inspected to ensure they meet our standards.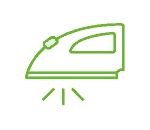 Items will be pressed and again inspected for quality cleaning.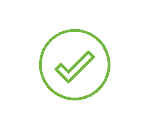 A final look over every item is completed before assembly and return.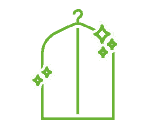 Items are bagged or boxed as required. The item then returns to the selected depot for pick up or home delivery.
Pick up and Delivery for Dry Cleaning FAQ
HIDDEN
What time will you be by?
We do not have set times, only route service days. We tell everyone to have their bag out on their front door by 8am on your scheduled route day and we will be by that day to get it.
How can I let you know if I don't have anything to pick up?
We send out a route text reminder the night before your scheduled route days. If you don't have a pickup, simply reply "No" to the text reminder and you will be removed from our schedule for the day.
Is there a minimum or do I have to use the service every week?
No, it doesn't matter whether you use the service once a week or once a month, we are most likely just a few minutes away with a nearby stop.
Do I have to be home for the delivery?
No, we will deliver back to your front door on the following scheduled route day. Our driver will contact someone at the home at the time of delivery (phone call, knocking) and if no one is there it will be left for you.
When will my items be delivered after a pickup?
Your items will be delivered on your following scheduled route day. For example, if we pick up on a Monday, items will be returned on Thursday. Some items such as alterations, comforters, rugs, drapes, will have a longer turnaround.